OLYMP Level Five Knitwear
body fit, Pullover crew neck, Anthracite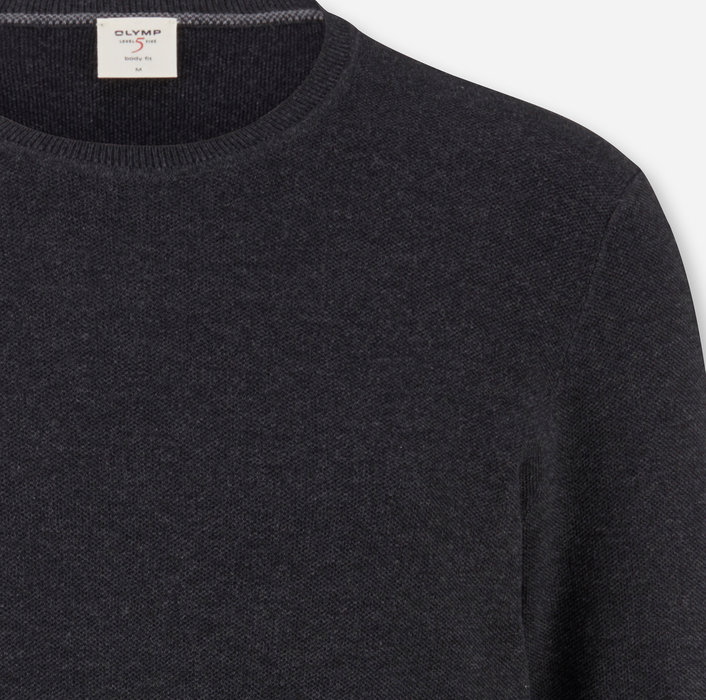 This high-quality OLYMP Level Five Casual knitted pullover is relaxed and style-conscious and will accompany you in your leisure time with OLYMP style. The soft cotton mix has been developed from finely structured fabric and creates a relaxed, modern look. A classic crewneck and shape-retaining cuffs complete the outfit, making it a versatile jack-of-all-trades for various occasions, offering a body-hugging cut.
Knitwear
Extra fine qualities. Body fit.
Material: 60% silk/ 40% polyester 0%
body fit
Anthracite
Pullover crew neck
Knitwear business
Noticably soft
Knitted to shape (fully fashioned)
Exact stitch count for each individual size
High degree of form stability
Low susceptibility to pilling
Machine washable
Body fit – figure-hugging waisted
Material composition
Material: 78% Cotton/ 22% Nylon
Care
Wash at 30 degrees

Do not bleach

Not in the tumble dryer

Iron, Medium Temp

Dry-cleanable
Cut: body fit
The figure hugging, waisted cut for slim and fashion-conscious Men in OLYMP. Two tucks in the back provide a figure-accentuating fit. The unique comfort stretch fabric also provides sufficient freedom of movement at the same time.
Collar: Pullover crew neck