OLYMP Level Five, body fit, Royal Kent, Royal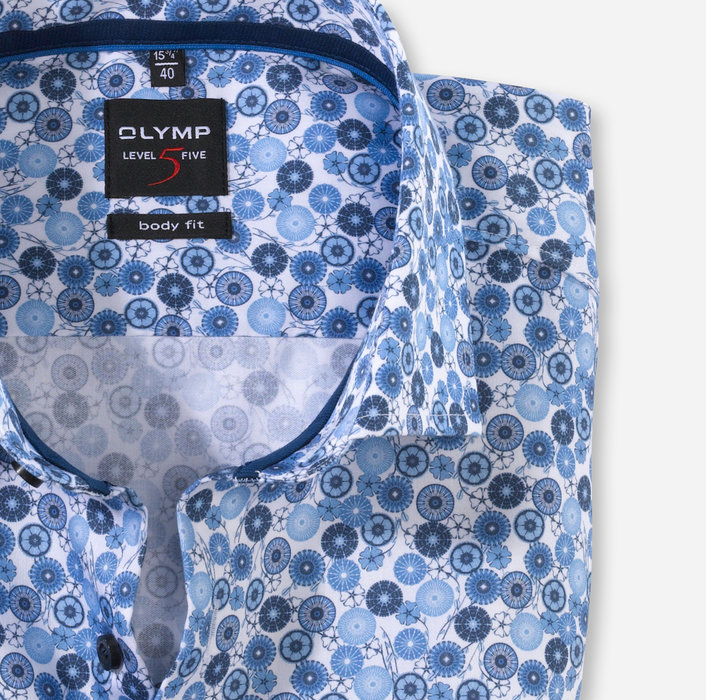 The royal coloured short sleeve shirt in the OLYMP Level Five range can't fail to impress with its slim cut and takes those who wear it to a whole new level of contemporary styling. The easy-iron fabric makes life so much easier. The high quality comfort stretch fabric offers unrestricted freedom of movement – despite the body-fit cut.
body fit
Royal
Royal Kent
Short-sleeved
STANDARD 100 by OEKO-TEX® (95.0.3008 HTTI)
Italian button panel
Darted at the back
Shape-retaining
Waist width 98 cm for size 39/40
Cut: body fit
The figure hugging, waisted cut for slim and fashion-conscious Men in OLYMP. Two tucks in the back provide a figure-accentuating fit. The unique comfort stretch fabric also provides sufficient freedom of movement at the same time.
Collar: Royal Kent
ROYAL KENT
The Royal Kent gives the contemporary business wardrobe majestic elegance. Between the slightly shortened collar ends of this design, which is more compact in comparison to the classic Kent, there is space for small to medium-sized tie knots. And even when worn open, this style of collar embodies the style of the elite gentlemen's club.