OLYMP Level Five Sweat, body fit, Sweat jacket, Silver Grey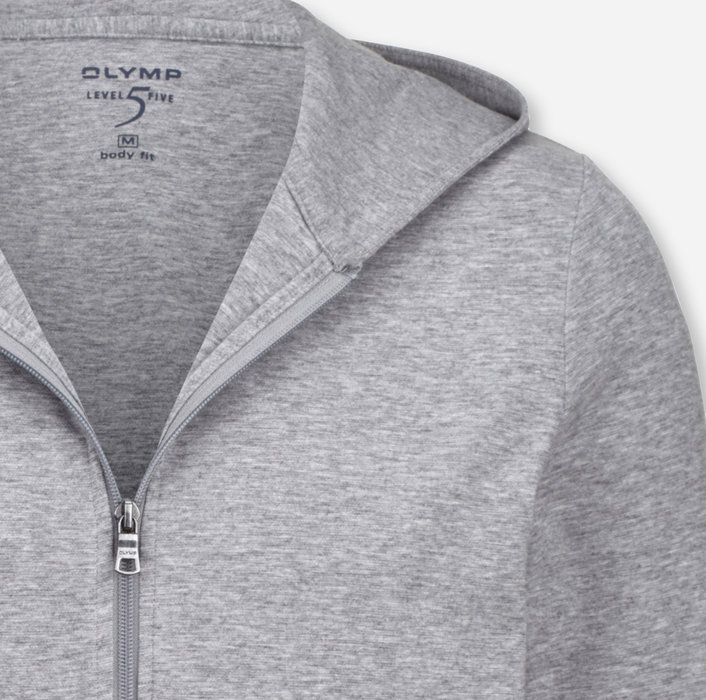 The OLYMP Level Five cardigan is a perfect everyday companion. The sweat knitted item is a particularly stylish addition for outfits. Thanks to its contoured body fit cut, the OLYMP Level Five cardigan in silver grey is the ideal complement to the shirt line of the same name. Achieve the ideal smart casual look by combining with a casual shirt or jeans shirt.
Sweat
Casual. Body fit.
Casual unconstructed seat
Material: Cotton 87%, Polyester 13%
body fit
Silver Grey
Easy-care
Material composition
Material: 87% cotton/ 13% polyester
Care
OLYMP Level Five Sweat – Wear and care tips

• Always wash whites and colours separately.
• To maintain colour brilliance, we recommend you use colour detergents or mild detergents for coloured items. Only use all-purpose detergents for whites.
• Follow the washing instructions on the label.
• Turn the garment inside out.
• After washing, you should immediately hang the garment to dry on the washing line and pull completely into shape.
• Once the garment is dry, you can iron it very easily (always inside out!). Avoid using overheated irons (maximum 2 points) and please remember that the pre-set temperature can differ from the actual ironing temperature.

Cut: body fit
The figure hugging, waisted cut for slim and fashion-conscious Men in OLYMP. Two tucks in the back provide a figure-accentuating fit. The unique comfort stretch fabric also provides sufficient freedom of movement at the same time.